"What Can I Expect After a Mommy Makeover?" How To Get Your Bikini Body Back
After a Mommy Makeover, you should expect to have some bruising and swelling, which is why it is important to rest as much as possible. Each week after your Mommy Makeover, you will find yourself slowly getting back to your normal day-to-day routine.
Bringing a child into the world is a beautiful and indescribable feeling. As a new mother, a natural force takes over that causes you to solely concentrate on your baby's safety and happiness, leaving little to no time for you to care for yourself. While you navigate through this new life-long role of motherhood, you'll experience a blend of emotional, hormonal, and physical changes — with the latter often being a nagging concern.
Only mothers understand the physical demands of pregnancy, which can be very hard on a woman's body. How a woman looks after pregnancy can significantly affect her emotional wellbeing. While eating healthy and exercising can help you lose pregnancy weight, it doesn't always ensure the results you're looking for.
At Premier Plastic Surgery, we want new moms to look and feel their best after this exciting and life-altering experience. If you fit into this category, our cosmetic surgeons near Wexford, PA, can review a wide assortment of treatment options with you to help you achieve your desired physical results.
What is a Mommy Makeover?
A Mommy Makeover helps to alleviate a woman's post-pregnancy physical concerns with multiple procedures that help restore the shape and appearance of the body.
Common Mommy Makeover Procedures
Achieving your desired outcome may require a combination of both surgical and minimally invasive procedures. Check out this infographic for a quick look at popular Mommy Makeover procedures: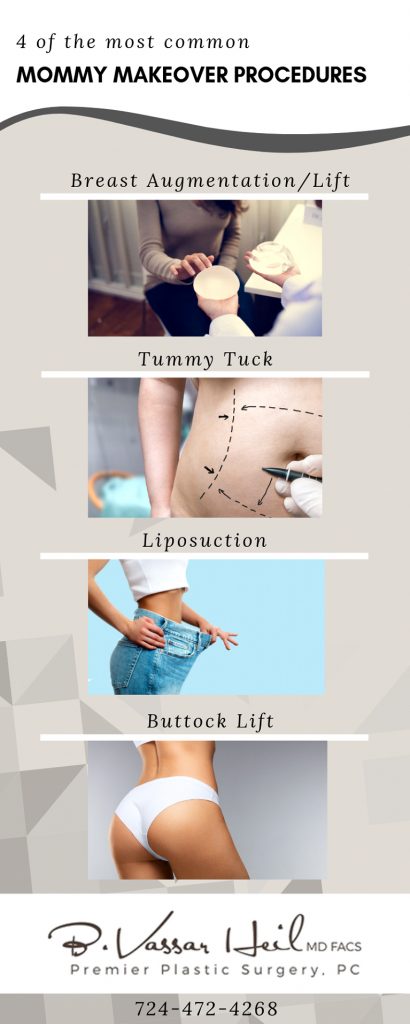 What Should I Expect After my Mommy Makeover?
The first week after your Mommy Makeover, you're expected to rest and relax. Having someone around to help you during this time can aid in your recovery time, especially when you're caring for a newborn. You should also keep the following in mind after your procedure(s):
Bruising, Swelling and Pain — Just like any physical procedure, you may experience bruising, swelling, and moderate pain after your Mommy Makeover. Repositioned tissue can affect sensory nerves, causing numbness and loss of sensation in the treated areas. This is common and should not be cause for alarm. As your body recovers, tissue will begin to heal and nerves will regenerate, restoring feeling in the affected area.
Medication — You will receive pain medication to control any discomfort post-surgery.
Returning to Physical Activities — It is recommended that you begin to walk the first day after surgery. However, you should avoid overexertion while performing household duties. You can resume light exercise after three weeks from the date of your procedures. Prioritize what needs to get done and enlist the help of family and friends to carry out essential tasks and household duties.
Returning to Work — Depending on your job, you may be able to return to work quickly. However, to ensure a smooth recovery, you should expect to take at least 1-3 weeks off from work.
After welcoming your new bundle of joy into the family, trying to locate highly educated, trained, honest, and committed plastic surgeons in Pittsburgh, PA, should be the least of your worries. At Premier Plastic Surgery, each and every one of our medical professionals possess the knowledge and skills to conduct advanced cosmetic procedures so that you can get your bikini body back this season! Schedule a free consultation to review cosmetic options for your Mommy Makeover by calling 724-264-3608 today!