Take Your Hat off This Summer: Restore Confidence With ARTAS™ Robotic Hair Transplant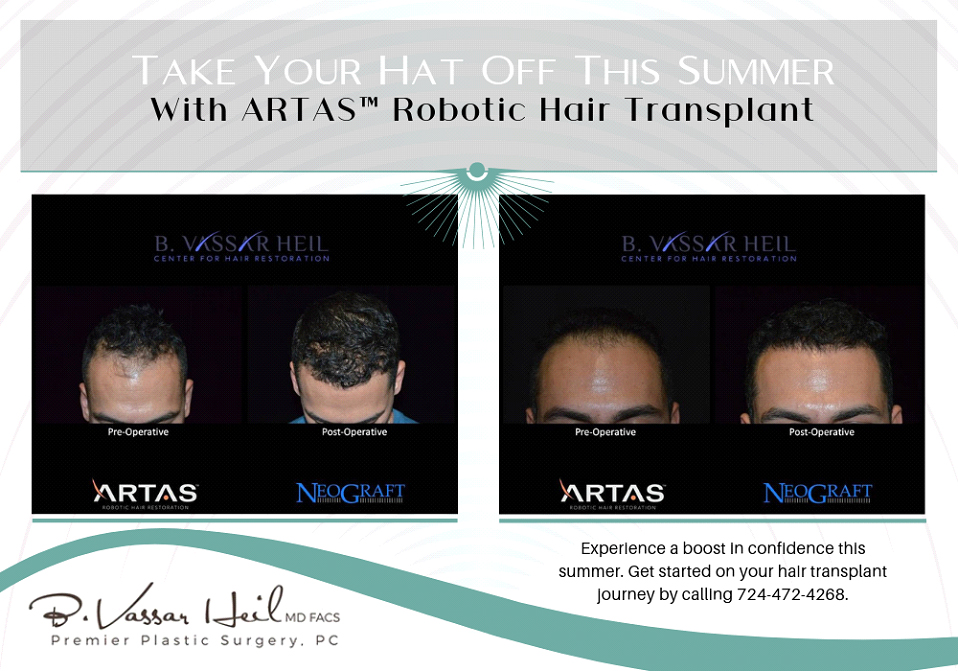 There are various causes for hair loss, and in the beginning, it is only natural to try some of the popular hair loss products to remedy this startling, and often unanticipated, occurrence. When results are disappointing, it's reassuring to know that men can turn to a more reliable solution — ARTAS™ Robotic Hair Transplant.
At Premier Plastic Surgery, Dr. Brian V. Heil helps men who experience hair loss experience the transformation of a lifetime. Too often, people sit back and contemplate whether or not they should receive hair loss treatment. Before they know it, years have gone by that could have been lived to the fullest. Don't make that mistake! At Premier Plastic Surgery, we want you to take your hat off this summer and experience self-confidence like never before.
Why Should I get ARTAS™ Robotic Hair Transplant This Summer?
Achieving extraordinary results from a hair loss treatment near Wexford, PA, is not just a far-fetched dream. With Premier's professional services and state-of-the-art technology, you can experience a natural look at an affordable price.
You Don't Have to Worry about Your Scalp Getting Sunburned — It is recommended that balding men apply sunscreen to their scalp to prevent sunburn. Not only is sunburn painful, but the threat of harsh, red burns can easily keep you from enjoying the outdoors. With hair loss treatment from Premier Plastic Surgery, you can expose yourself to the sun's reinvigorating rays without getting sunburned on your scalp.
Improve Self-Esteem — Most people who experience hair loss have trouble maintaining their self-esteem. How you feel about yourself impacts everything you do, and confidence in your appearance can have a positive snowball effect throughout your life.
Feel Younger — Losing your hair can make you feel older than you actually are and hold you back from activities you once enjoyed.
Follow the Latest Hairstyle Trends — Losing your hair can prevent you from trying out new hairstyles. When you restore your hair with ARTAS™, you'll be able to try new looks all summer long.
With comforting sunshine and perfect outdoor temperatures to savor this summer, the last thing you want is to withdraw from the world around you. If your hair loss is causing you to remain indoors while the rest of your family and friends are enjoying the season, it may be time to consider a solution that will permanently change your hair loss setbacks.
Invest in the revolutionary ARTAS™ Robotic Hair Transplant procedure and get involved in all your favorite summer activities. To schedule an ARTAS™ hair transplant a short trip from Pittsburgh in Pennsylvania, just make an appointment today by calling 724-264-3608.