Rosacea Treatments
Rosacea is a painful inflammatory condition that affects over 16 million Americans, with the four major subtypes of rosacea including erythematotelangiectatic rosacea, papulopustular rosacea, phymatous rosacea, and ocular rosacea (National Rosacea Society, American Academy of Dermatology). Among the more difficult-to-treat subtypes is papulopustular rosacea, which can occur alongside subtype 1 rosacea and may sometimes be confused with comm  on breakouts.
What are the Symptoms of Rosacea?
Rosacea is generally characterized by a persistent red, rough skin, often found on the the face. Other types of rosacea, like Subtype 2 rosacea is characterized by erythema, flushing, burning/stinging, occasional facial edema (swelling), and acne, all predominantly on the face. Although papulopustular rosacea may occur concurrently with breakouts, this condition lacks the comedones that typically occur with pimple outbreaks. It is not uncommon for papulopustular to occur with subtype 1 rosacea, with telangiectases being concealed by erythema, papules, and pustules (National Rosacea Society, American Family Physician).
What Causes Rosacea?
The pathogenesis of rosacea is complex and still under investigation.
Recent evidence suggests that those with rosacea tend to have higher levels of certain proteins, including the serine protease kallikrein and abnormal forms of cathelicidin peptides in their skin (Nature Medicine, Journal of the European Academy of Dermatology and Venereology).
In the immune system, toll-like receptor 2 expression has been shown to be more pronounced in those with rosacea (Journal of Investigative Dermatology).
There is also compelling evidence that Demodex mites may play a role in rosacea, with there being a high concentration of Demodex mites in the skin of those suffering from rosacea (Journal of the European Academy of Dermatology and Venereology). For example, research published in Dermatology Online Journal found that the antiparasitic treatments ivermectin and praziquantel improved the severity of papulopustular rosacea, suggesting that Demodex mites be an aggravating factor.
Dermatologists therefore do not yet fully understand the pathogenesis of rosacea, although there is a growing body of evidence to suggest that abnormal proteins, immunological reactions, and disturbed mite populations on the surface of the skin play a role.
How Do Dermatologists Treat Rosacea?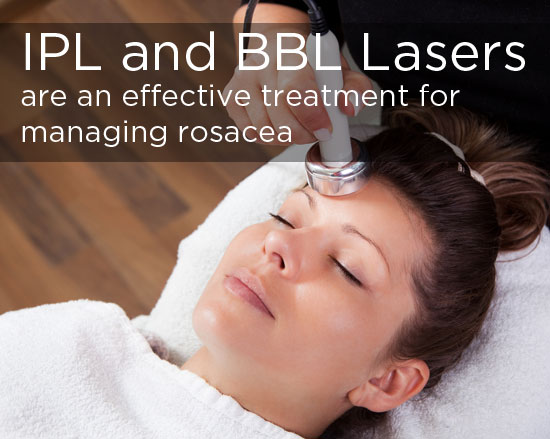 Although there is no permanent cure for rosacea, IPL and BBL lasers are an effective treatment for managing the condition. Patients can go through life with normal, healthy, even colored skin. At our dermatology office, we use only the finest Sciton lasers.
Intense Pulsed Light™ (IPL) is a gentle laser treatment that can aid rosacea without injuring the skin's surface.  IPL offers a gentle, long-lasting solution for the redness, breakouts, discolorations, and discomfort of rosacea.  It also combines dramatic improvement with virtually no down time.
Broad Band Light™ (BBL) is similarly gentle and is used to eliminate the unwanted surface blood vessels that accompany rosacea.
A broad-band IPL or BBL laser treatment may be able to help in as little as five monthly treatments. Laser skin care treatment generally are about $500/treatment. Maintenance treatments once per year are generally recommended.
What Skin Care Products Can Be Used for Rosacea?
We recommend Hylunia Ultimate Antioxidant Cream and Hylunia Beyond Complex C. These products hydrate, soothe, and calm sensitive, irritated, and rosacea-prone skin. The products repair visible signs of damage to the skin resulting from sun and wind exposure, smoke and pollutants, chemical peels, microdermabrasion and laser resurfacing. These products together will also help to maintain the delicate hydrophilic cutaneous layer and normalize the pH of the skin.
The humectant glycerin may prove of benefit in treating the dryness and erythema associated with rosacea. For example, glycerin is believed to improve penetration of other topically-applied ingredients and absorbs thoroughly into the stratum corneum, thus creating a reservoir within the stratum corneum's bilayers (Journal of Clinical and Aesthetic Dermatology, British Journal of Dermatology). For example, in those suffering atopic dermatitis, a 20% glycerin cream improved skin dryness and led to fewer adverse reactions than a 4% urea and 4% sodium chloride treatment (Acta Dermato-Venereologica). Similarly, topical treatments containing between 1% – 10% glycerin hydrated skin which had been damaged by a 10% sodium lauryl sulphate solution (Archives of Dermatological Research).
In Summary
Rosacea is characterized by flushing, erythema, burning/stinging, and sometimes acne, and occasionally instances of broken blood vessels. While its exact pathogenesis is still under investigation, we have had great success in using IPL and BBL laser treatments to combat rosacea symptoms. Recent research has also spotlighted several skin care ingredients which can greatly alleviate the pain and symptoms associated with rosacea, such as glycerin, antioxidants, and green tea.