Oral Hair Loss Treatments
Despite the high rates of success, some people may be resistant to undergo surgery to rectify hair loss, even minimally-invasive procedures like NeoGraft Hair Restoration. Fortunately, we at Premier Plastic Surgery & Dermatology offer several oral therapies for those who prefer non-surgical treatments for hair loss which are both effective and wallet-friendly.
FinPlus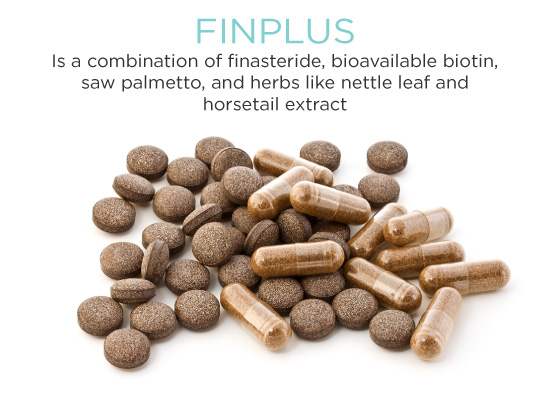 FinPlus is a compounded finasteride therapy that combines finasteride, bioavailable biotin, saw palmetto, and herbs like nettle leaf and horsetail extract in order to deliver maximum hair regrowth. Available as 90 capsules per bottle, FinPlus supplements are less expensive than the alternative finasteride therapy Propecia, but contain 25% more finasteride and a variety of herbs and nutrients that benefit hair regrowth. Numerous studies have demonstrated that finasteride is a well-tolerated and effective oral therapy for male pattern hair loss by both preventing future hair loss and encouraging hair regrowth. It is believed that finasteride promotes regrowth by inhibiting the conversion of the testosterone hormone to dihydrotestosterone (DHT), an androgen hormone that plays a role in male pattern hair loss for those with a genetic predisposition (Drugs, Journal of Investigative Dermatology Symposium Proceedings). Similarly, recent research suggests that oral biotin supplements can encourage hair regrowth in females with thinning hair (The Journal of Clinical and Aesthetic Dermatology). According to research published in a study from the Journal of Clinical and Aesthetic Dermatology, biotin-containing supplements were found to increase hair diameter and the number of terminal and vellus hairs in women who had self-perceived thinning hair. The assortment of other herbs and nutrients in FinPlus can also greatly contribute to hair health and regrowth, such as by impeding DHT activity and regulating stem cell functioning in the body.
Results will vary from patient to patient, although most individuals will see results within the first 90 days after using FinPlus supplements. Although the addition of supplements to one's diet always raises the risk for negative effects, less than 2% of patients report any adverse effects from using FinPlus supplements. FinPlus supplements should be taken once a day with or without food and can be used in combination with other hair loss therapies, such as laser therapy or topical treatments. It is important to note that only patients of Premier Plastic Surgery & Dermatology can obtain FinPlus supplements.  Dr. Brian V. Heil of Premier Plastic Surgery & Dermatology believes that a multi-pronged approach to hair loss therapy is always the best treatment option.
Viviscal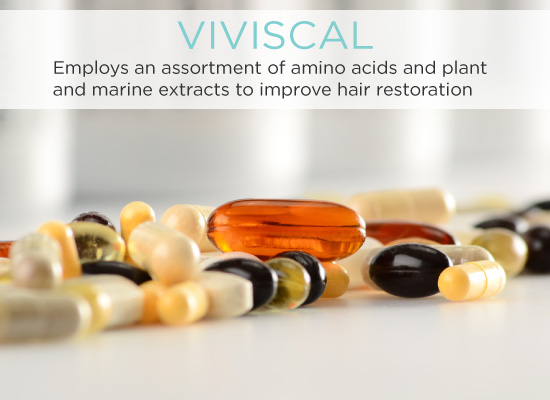 Hair loss is a multifactorial issue that can be triggered by a combination of genetics, environmental factors, hormonal fluctuations, lifestyle choices, and aging. That's why the creators of Viviscal chose to create a meticulously-crafted and scientifically-backed dietary supplement that can promote existing hair growth and nourish thinning hairs. Viviscal supplements employ an assortment of amino acids and plant and marine extracts that have been shown in clinical literature to positively impact hair health. For example, the amino acid L-cystine encourages hair and nail growth, whereas l-cystine and l-methionine both are  believed to strengthen hair by providing extra sulfur to hair cells (Journal of Applied Cosmetology,Natural Health Research Institute). Similar, the procyanidin B-2 in Viviscal (extracted from apples and certain other fruits) has been shown to  encourage hair growth, thus further increasing the likelihood of developing a full head of hair (British Journal of Dermatology). Owing to their being rich in nutrients, minerals, and protein, extracts derived from marine life have gained more popularity in hair loss supplements. It is believed that shark extract (found in Viviscal) may be a source of essential fatty acids that promote hair and nail growth (Marine Cosmeceuticals: Trends and Prospects). In addition, several studies have examined the efficacy of Viviscal supplements and found that they not only promote hair growth and discourage hair loss, but are generally well-tolerated by users (Dermatology Research and Practice, The Journal of Clinical and Aesthetic Dermatology)
Despite Viviscal's enormous benefits for hair regrowth, they are not suitable for those with fish, seafood, or shellfish allergies as Viviscal capsules contain shellfish and fish extracts. Viviscal capsules should be taken once in the morning and once in the evening, preferably with water after one has had a full meal. Depending on the severity of one's hair loss, Viviscal capsules should be taken for a minimum of three to six months.
Bottom Line
For those suffering from hair loss and who prefer non-surgical or non-invasive therapies, we at Premier Plastic Surgery & Dermatology have several treatments available. The compounded finasteride supplement FinPlus and Viviscal are among the most popular and effective oral hair loss therapies available today, and have been met with great enthusiasm by our patients. Although board-certified plastic surgeon Dr. Brian V. Heil suggests using a combination of treatments in order to maximize hair health and regrowth, taking either FinPlus or Viviscal supplements is a great step towards treating thinning or balding hair. If you are interested in scheduling a consultation withDr. Brian V. Heil or would like to know more about our hair loss treatments, please call us at 724-264-3608 or send us an email.