NeoGraft
Whether from alopecia, trauma, or aging, hair loss can be an embarrassing condition for people of any age and gender. Fortunately, the NeoGraft Hair Restoration treatment offered by Premier Plastic Surgery & Dermatology delivers quick, minimally-invasive, and permanent results to those suffering from hair loss.
What is NeoGraft Hair Restoration?
NeoGraft Hair Restoration is a revolutionary and minimally-invasive hair transplant procedure.
NeoGraft Hair Restoration makes use of an automated Follicular Unit Extraction (FUE) technology, in which one to four strands of hair are extracted by a machine with 0.8 mm or 1.0 mm diameter extractions. The hairs are then transplanted as a group (called a hair bulb) to a balding area. FUE can also be executed manually, although this is much more time-consuming for both patient and surgeon. For most patients, the automated procedure can transplant up to 2,500 hair strands per session. What makes the NeoGraft Hair Restoration a breakthrough procedure is that it guarantees permanent hair growth, meaning that hair can be washed, cut and styled without the worry of transplanted tresses falling out or becoming fragile. Additionally, because NeoGraft Hair Restoration sessions are minimally-invasive procedures they exclude the use of scalpels and sutures, preventing scarring. The NeoGraft Hair Restoration process differs substantially from the traditional means of hair transplant known as the linear strip method. The linear strip method involves removing a section of the scalp from the client's head, and then stapling or stitching this section of the scalp back onto the patient's head in an area of balding. Consequently, the linear strip method often causes pain and leads to extensive scarring for patients. Complications include a higher risk of infection and the possibility of nerve damage. Additionally, the linear strip method greatly limits the parts of the body from which hairs can be extracted. The NeoGraft Hair Restoration method reduces complications and allows hairs to be harvested from various locations on the patient's skin.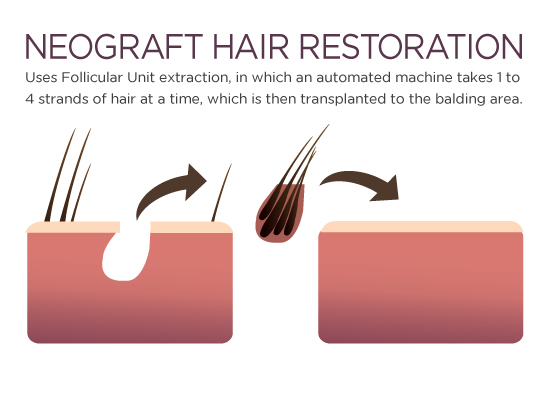 Who Should Undergo a NeoGraft Hair Restoration Session?
NeoGraft Hair Restoration sessions are suitable for both men and women who are in generally good health and who suffer from hair loss, whether it is a matter of thinning hair or balding. There are no age limits as to who may undergo this procedure.
What Should I Expect After the Procedure?
Many individuals who undergo NeoGraft Hair Restoration notice slight scabbing after undergoing the transplant. This is part of the normal recovery process, and usually resolves itself within two weeks of the procedure.  Most individuals can resume their normal daily activities the day after their NeoGraft Hair Restoration session. However, athletes and others who frequently participate in strenuous activities should wait one week before resuming such activities. Clients typically resume shampooing 48 hours after the procedure. Most patients report that their newly-transplanted hairs appear dense and natural. This is a significant improvement over previous techniques which often were described as producing an unnatural appearance. However, it is important to note that these transplanted hairs will remain visible for two to three weeks before falling out. The hair  (follicular unit) remains dormant beneath the skin for six to twelve weeks. Notable replacement hair growth occurs four to six months after undergoing the NeoGraft Hair Restoration procedure. Full hair growth tends to appear within nine to twelve months following the procedure.
Are There Any Risks Involved?
No medical procedure is completely devoid of risk. However, patients who undergo the NeoGraft Hair Restoration F.U.E. technique rarely experience inflammation, swelling, pain or scarring. Pain may occur when the scalp is being anesthetized. Typically, the anesthesia does an excellent job desensitizing the scalp and most patients are able to converse with their Premier surgeon throughout the procedure. The primary side effect is temporary, mild scabbing at the transplant site. Adverse effects are minimized when a well-trained and meticulous surgical team such as that at Premier Plastic Surgery & Dermatology  administer the local anesthesia and perform the F.U.E. procedure. Most issues that arise after undergoing this procedure are easily treated.
How Much Will It Cost?
There is no single answer regarding the cost of a NeoGraft Hair Restoration session. The cost varies greatly depending on how many sessions are desired to meet the client's goal and the extent of hair loss. Premier staff willingly help patients understand the costs associated with this procedure and gladly design payment plans suited to their individual financial situations. To learn more about financing options, consult Premier's financing page or call 724-264-3608 for a consultation.
Why Should I Pick Premier Plastic Surgery & Dermatology?
There are numerous plastic surgery practices throughout the world, but few achieve the quality found at Premier Plastic Surgery & Dermatology, which is designated a NeoGraft Center of Excellence by the manufacturers of NeoGraft. Premier is the only NeoGraft Center of Excellence in Western Pennsylvania to-date. This superior designation has been given to only a handful of the most experienced and accomplished hair transplantation surgeons. Premier's board-certified plastic surgeon, Dr. Brian V. Heil, has over 14 years of experience as a plastic surgeon and has conducted over 1,000 hair transplant procedures during his career. Dr. Heil has also authored or co-authored over 50 abstracts, papers, and presentations regarding plastic surgery, and was voted by his peers to be recognized as Castle Connolly America's Top Doctor.
For those undergoing NeoGraft Hair Restoration, Premier offers free NeoGraft LTS hair growth light therapy. Additionally, weekday, weekend, and virtual consultations are available to meet  scheduling needs. For more information about scheduling a consultation with Dr. Brian V. Heil, please call 724-264-3608 or contact by email.
Bottom Line
NeoGraft Hair Restoration is a revolutionary hair transplant procedure that is minimally-invasive and delivers  permanent results. It is available at Premier Plastic Surgery & Dermatology – a NeoGraft Center of Excellence. Scheduling a consultation with board-certified plastic surgeon Dr. Brian V. Heil, is easily accomplished by calling 724-264-3608 or sending questions by email.