Let's Talk About Female Wellness – The FAQ for YOU!
More and more women are learning that they are not alone in their struggles with feminine wellness, as the number of relief procedures increase yearly. Women's collective awareness of these treatments not only brings their issues to the table, but also allows otherwise shy or embarrassed women to start seeking a solution for them.
If you have been suffering from common feminine problems like:
Dryness
Laxity
Decreased Libido
Urinary Stress Incontinence
This is the FAQ for YOU!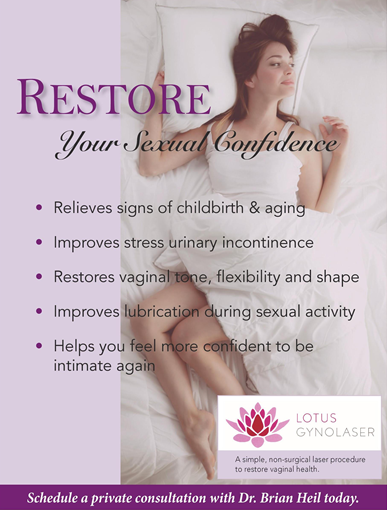 What are Some of the Causes of Feminine Problems?
There are many causes, such as aging, hormonal changes, and even something as common as vaginal delivery. In fact, all women who have vaginally given birth are faced with a stretching of their vaginal tissues. Despite that, many women who haven't had children can also encounter this issue as well.
What are Gynolaser Treatments?
Gynolaser treatments are non-surgical, non-hormonal treatments that are performed in-office to treat and improve your vaginal health. This procedure can treat a number of vaginal wellness symptoms from laxity, sexual dysfunction, to even urinary tract infections with dramatic improvements.
What are the Treatments Like?
Usually taking about three minimally invasive treatments, there is no surgery, incisions, sutures, discomfort, or downtime. It simply feels like warmth without any bruising or redness. In fact, patients not only resume their daily activities the same day, but they can notice quick improvement as fast as within a few days to a few weeks.
How do Gynolasers Work?
Using an innovative and state-of-the-art CO2 laser to promote the stimulation of new vaginal tissue growth, collagen production is triggered. The stimulation of vaginal mucosa will also result in an increased lubrication and moisture in the area. Your vaginal health issue can be addressed in a painless and progressive way!
Am I a Candidate for Gynolaser Treatments?
Ideal patients that cosmetic surgeons near McMurray, PA, see for this treatment are postmenopausal women who are experiencing dryness and pain during intercourse due to a lack of hormonal stimulation. A Gynolaser treatment is the perfect replacement for women or cannot or do not want to tolerate hormonal treatments.
Women who are undergoing breast cancer treatments can also experience symptoms similar to those who are postmenopausal, making the Gynolaser also an even option for them since they cannot take hormones.
Women who are dealing with laxity due to childbirth are also great candidates for the Gynolaser since it works to tighten the vaginal walls.
Incontinence is also an issue that is alleviated with the Gynolaser. Women who are experiencing this frequent issue are perfect for this procedure. If you have any other questions about our Gynolaser treatment at Premier Plastic Surgery, a medical spa near Cranberry Township, PA, do not hesitate to give us a call! We are here for you to solve your feminine issues so you can go back to feeling like YOU.