Laser Liposuction
At Premier Plastic Surgery Pittsburgh, we offer numerous procedures which can beautify your skin. Among the most popular treatments to smooth skin on the body is laser liposuction – but what exactly is laser liposuction, and how do you know if it will suit your needs?
The Process
If you want to go undergo laser liposuction, you should know that the process differs significantly from traditional liposuction. Whereas traditional liposuction involves a vacuum suction to extract fat, laser liposuction uses heat from fiber-optic lasers to "melt" undesirable pockets of fat. Specifically, a small laser-containing cannula (a type of tube) is inserted into incisions in one's skin and damages fat cells. But what makes this process so unique and beneficial is that it can encourage collagen synthesis, which is important for maintaining firm and taut skin. Most patients require one or two days post-surgery to recover (i.e. abstaining from work and most other activities) and may require pain pills for several days after surgery as well. Most patients will need to wear a compression garment for six weeks after surgery – three weeks in which one must wear the garment 24/7, followed by three weeks where one wears the garment for 12 hours a day (Healthline, Dr. Chad K. Wheeler for RealSelf, American Lipo Centers).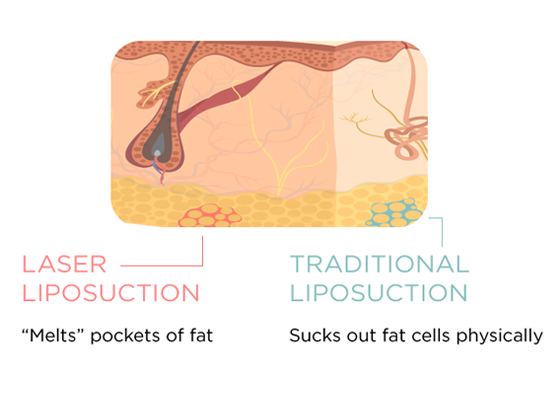 Who Is Laser Liposuction Best For?
Laser liposuction is not meant to be used in lieu of regular exercise and a healthy diet. Therefore, laser liposuction is best for men and women who are in generally good health and who have areas of fat which are resistant to exercise and dietary changes. Those who have a BMI over 40 should first seek to lose weight before undergoing laser liposuction, as extreme weight loss post-surgery may affect skin tautness. Additionally, most individuals who choose to undergo laser liposuction should be within 30% of their ideal weight, so as to limit the chances of skin sagging after further weight loss (American Lipo Centers, New Beauty).
Potential Risks and Side Effects
Most patient generally report good results with laser liposuction. However, it is important to note that it may be difficult to have uniform smoothing of the skin if you choose to undergo laser lipo, as each section of the skin is not treated with lasers of the same strength. In some instances, patients may experience dimpling, burns, blood clots, infection, adverse reactions to anesthesia, and uneven skin smoothing, although these risks are minimized when in the hands of a good surgical team (Dr. Chad K. Wheeler for RealSelf, Healthline).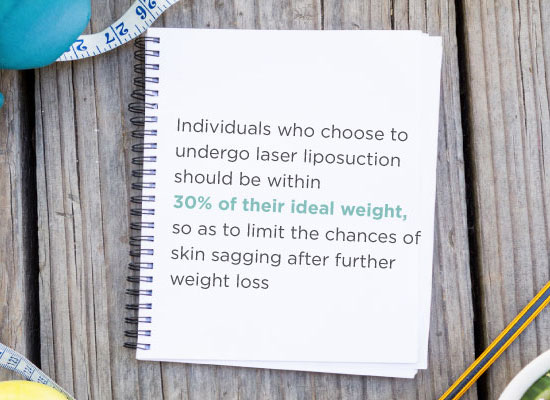 Bottom Line
Laser liposuction is one of plastic surgery's most fascinating and innovative procedures to-date. As the name would suggest, laser liposuction involves using a laser to liquefy fat buildup in stubborn areas, such as the sides of one's hips. While the laser can be calibrated to different strengths to cater to different levels of fat, laser liposuction may not always result in perfectly uniform skin, so multiple sessions may be required. Laser liposuction may result in soreness, burns, and infection, although these risks are greatly minimized when the procedure is conducted by an expert surgical team, such as our team at Premier Plastic Surgery Pittsburgh. If you have any further questions about this procedure or would like to schedule a consultation, please feel free to email us or call us at 724-264-3608.