Coolsculpting
CoolSculpting™ is an innovative way to contour your body by freezing unwanted fat away. Requiring no surgery or downtime, CoolSculpting™ is a unique, FDA-cleared advancement. With over 2 million CoolSculpting™ treatments performed worldwide, people everywhere are considering CoolSculpting™ as an alternative or addition to liposuction, laser lipolysis, ultrasound or radiofrequency assistance.(1)
CoolSculpting™ by Zeltiq®
Why Coolsculpting Works on Fat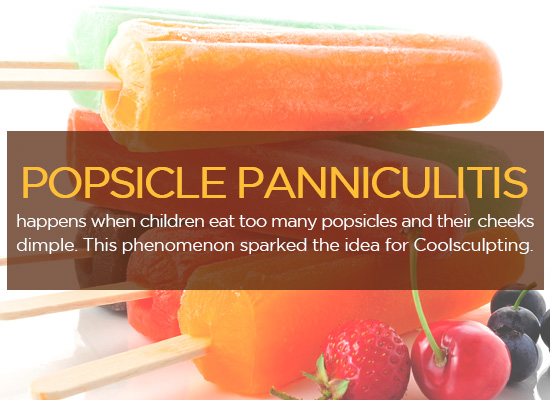 Fat cells are more sensitive to cooling than skin, muscle, and nerve cells.(1) But more important than the temperature reached is how fast it's reached. The people at Zeltiq® use the term Cooling Intensity Factor, or CIF, a numerical value which measures the rate at which heat is drawn away from the treated area. The heat is drawn away from the area in a controlled manner that ensures only fat cells are affected, which creators termed "selective lipolysis".(3) Cooling breaks them down in apoptosis, which in turn leads to the release of inflammatory mediators and the attraction of inflammatory cells.
These inflammatory cells help the body clean up dead fat cells. The fats, or lipids, once contained inside the cells are eliminated through the lymphatic system.(1) This happens gradually over the course of the two to four months following the procedure, leading to decreased thickness of the fat layer. Because the process is so slow, there is no risk of a sudden increase in blood lipid levels or affection of liver function.(4)
The Procedure
At Premier Plastic Surgery & Dermatology, here is the recommended process for CoolSculpting™:
Documentation is taken for before and after comparisons. This documentation includes photography, body weight, and circumference of the area to be treated.
A very thin pad is placed on the skin on the targeted area. It's soaked in "coupling gel." This is to ensure constant contact between the skin and the applicator during the procedure.
The device's cup-shaped "applicator" is applied on top of the pad, and a vacuum is turned on to suck in the targeted area. A C-shaped pillow may be put around the applicator to support it.
The applicator has two cooling panels on either side of the pinched skin, which start bringing down the temperature of the targeted area. Temperature sensors, also in the applicator, monitor the entire process and give feedback through the device's display.

The device has only one applicator, so if you are targeting two areas (e.g. both love handles) you will need to be there for double the time, as one area is treated at a time.

The pad that is applied is soaked in a gel so you will initially feel it cool and wet on your skin. The suction and cooling sensations are not at all uncomfortable.
After the applicator is removed, the area treated will feel very cold and a tiny bit hard. This will go away with time.
Side Effects
The treated area becomes red; this usually disappears by the end of the day.(1,2)
There may be swelling or bruising due to the vacuum; this disappears within the first week.(2)
Twenty percent of patients reported temporary numbness in the area treated (dysthesia); this normalizes in one to eight weeks. There have been no reports of lasting numbness, but the sensation can be somewhat bothersome to certain individuals.(2)
Is Fat Reduction the Same as Weight Loss?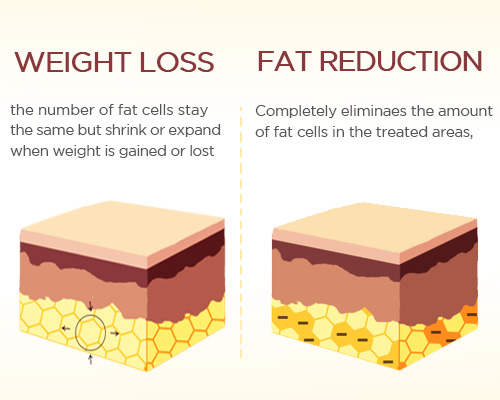 It's a common misconception that weight loss and fat reduction are the same thing. They're not.
When we lose weight, our fat cells become smaller, but the number of fat cells remains the same. When we gain weight, those fat cells become larger again.
However, the CoolSculpting procedure actually reduces the number of fat cells in the treated areas. Obviously, fat cells that are no longer there can't get bigger.
With the CoolSculpting procedure, once treated fat cells are eliminated, they are gone for good. Whether or not you weigh less, you'll be thinner and your clothes will fit better, feel better, and look better.(5)
The End Result
Over the course of two to four months, you will notice a gradual reduction in the circumference of the treated area and a visible sculpting or contouring that looks very natural.(2)
Reduction has been reported to be anywhere between 1 – 5 cm (0.5 to 2 inches). Patients reported going down a dress size.
If desired, the procedure can be repeated after two to four months.
According to the site, results have been shown to be persistent for over six months post procedure. More long-term studies are yet to be conducted.
The Cost
Please contact Premier Plastic Surgery & Dermatology for more information.
Advantages
Non invasive: no hospitalization, no anesthesia, no surgery, no stitches, no pain!
Zero down time.
Excellent for fit, healthy people who have a fat deposit that will not go away with regular exercise and diet.
Note the Following!
This procedure is not suitable for patients who are overweight or have considerable skin laxity. (2) Expectations have to be realistic; it's crucial to understand that the results are not as drastic as a liposuction.
The CoolSculpting™ makers do not recommend that the procedure be used as a treatment for cellulite.
As one study points out, the effect of cooling must be evaluated in patients suffering from diseases that are aggravated by the cold, such as cold urticaria or cryoglobulinema.(1)Always tell your doctor of any pre-existing conditions.
Bottom Line
CoolSculpting™ is an innovative procedure designed to contour your body by freezing unwanted fat away with no surgery or downtime. With over 2 million CoolSculpting treatments performed worldwide and very few side effects (redness and temporary numbness), it is a non-invasive, safe, FDA-approved procedure that will help to get rid of stubborn fat deposits and unwanted inches!
The sooner you set up your consultation, the sooner you'll see results in the mirror—in those areas that have resisted all efforts through diet and exercise. Talk to a provider today at Premier Plastic Surgery & Dermatology to find out if the CoolSculpting fat freezing procedure is right for you!
Sources
1-     B. Zelickson et al. Cryolipolysis for Non Invasive Fat Cell Destruction: Initial Results from a Pig Model. Dermatologic Surgery 2009; 35 (10): 1462-70.
2-     A. Nelson et al. Cryolipolysis for Reduction of Excess Adipose Tissue. Seminars in Cutaneous Medicine and Surgery 2009; 28 (4): 244-9.
3-     L. Brightman et al. Can Second Treatment Enhance Clinical Result in Cryolipolysis? A Case Report.Cosmetic Dermatology 2011; 24 (2): 85-8.
4-     B. Kenneth et al. Non Invasive Cryolipolysis For Subcutaneous Fat Reduction does not Serum Lipid Levels or Liver Function Tests. Lasers in Surgery and Medicine 2009; 41 (10): 785-90.
5 – Coolsculpting.com. http://www.coolsculpting.com/the-coolsculpting-procedure/fat-reduction-vs-weight-loss/