Best Procedures for 40's: Liposuction
It can be disheartening when fat deposits refuse to respond to proper diet and conscientious exercise. Terms such as "love handles" and "muffin top" lose any charm they ever possessed when your clothes don't fit properly. Sometimes, revealing summer styles can make you want to skip activities with friends and family. Premier Plastic Surgery & Dermatology in Pittsburgh offers liposuction to help smooth away stubborn and unwanted areas of fat that undermine confidence in both men and women. Learn about your options by scheduling a consultation with our board-certified Pittsburgh cosmetic surgeon Dr. Brian V. Heil to discuss your concerns and set achievable goals for change.
Liposuction, also known as lipoplasty or body contouring, is a surgical suction technique to permanently remove deposits of fat cells from specific areas of the body. Targeted areas include the abdomen, hips, thighs, buttocks, arms, and neck. Liposuction is not a replacement weight loss method for healthy diet and exercise. Nor is it a treatment for obesity or cellulite (dimpled areas on the thighs, hips, and buttocks). This procedure removes fat cells from the body, changing the proportions of the targeted area. Areas resistant to conventional means of improvement in otherwise healthy people will vary, especially between men and women. (American Society of Plastic Surgeons, Mayo Clinic, The Journal of the American Medical Association, U.S. National Library of Medicine)
Liposuction surgery employs thin metal tubes (cannulas) to permanently remove stubborn pockets of fat from the body of healthy individuals. The degree of anesthesia required depends on the number of sites to be treated, their location and whether the patient is undergoing additional procedures at the same time. The cannulas are inserted into the fatty deposits through small incisions in the skin. They are manipulated to dislodge the disproportionate number of fatty cells in the target region. Once the deposits are disrupted, the fat cells are suctioned from under the skin. Any swelling or fluid retention immediately following the liposuction  procedure will subside over time. The elastic nature of skin allows it to mold to the new contour. It is important to note that patients should continue to maintain a healthy lifestyle after a liposuction procedure. The remaining fat cells will respond to weight gain or loss in the normal manner. Future weight gain or loss will reflect the new body proportions. (The Journal of the American Medical Association)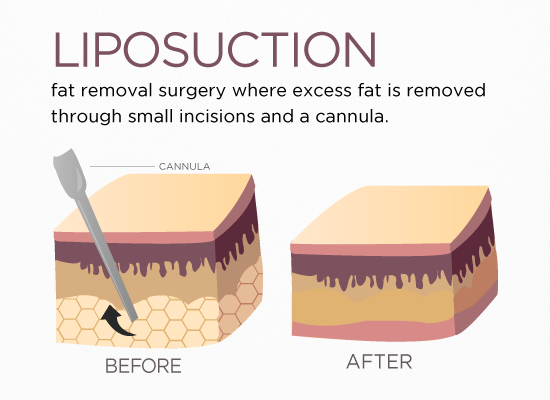 WHAT ARE THE BENEFITS OF
LIPOSUCTION
?
Liposuction should be viewed as a "sculpting procedure" that can change the contours of the body or face (International Journal of Drug Development and Research). It is a cosmetic surgical procedure that slims, reshapes, and improves body contours. It can create more harmonious body proportions. Healthy individuals who are within 30% of their ideal weight, have good muscle tone and firm, elastic skin are more likely to see benefits from liposuction surgery (American Society of Plastic Surgeons). The results from liposuction can be long lasting if you follow your surgeon's aftercare instructions and continue to maintain a stable weight and general fitness. As always, positive results are expected, but there is no guarantee that the ideal results can be accomplished in a single procedure. At times, a second liposuction surgery is necessary to achieve optimal results. As the years pass, patients may notice natural looseness in their skin, but the improvements to the skin attributable to the liposuction procedure will remain permanently. (American Society of Plastic Surgeons, International Journal of Drug Development and Research)
WHY IS
LIPOSUCTION
IDEAL FOR 40 YEAR OLDS?
Liposuction cosmetic surgery reshapes the contours of the body using suction to permanently remove targeted fat deposits that are resistant to exercise and diet. Age is associated with body composition changes that have an important impact on health (The Journal of Nutrition). The trend is to develop an increase in upper and central body fat deposition (The Journal of Gerontology). Therefore, many of the typical stubborn pockets of fat of concern to patients become apparent as they age into their 40's. Liposuction is ideal for those in their 40's because the elasticity of their skin allows it to mold smoothly to the tissue remaining after the procedure. This desirable elasticity generally fades during the decade of one's 50's, causing results to be less predictable.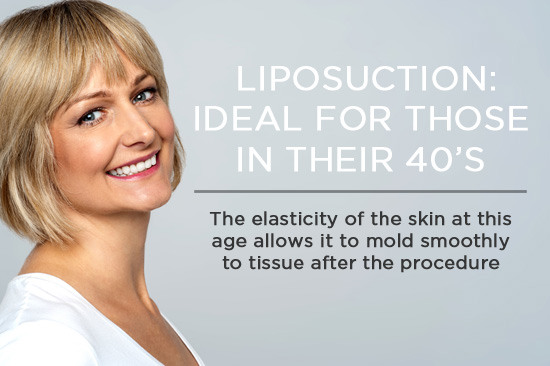 Our entire staff at Premier Plastic Surgery & Dermatology seeks to provide the highest level of care and comfort to our patients. Board-certified Pittsburgh cosmetic surgeon and founder of Premier Plastic Surgery & Dermatology Dr. Brian V. Heil brings in-depth knowledge that he shares with our patients in their consultation. Patient education is a high priority at Premier Plastic Surgery & Dermatology. Dr. Heil ensures that our patients are fully informed of the benefits and risks of liposuction as it relates to their individual situation.
Dr. Brian V. Heil earned his Doctorate of Medicine from the University of Pittsburgh. After which, he completed a five year integrated residency training program in General Surgery and Plastic and Reconstructive Surgery, along with a fellowship in Micro Surgery and Thrombosis Research from the University Medical Center of Pittsburgh, which is one of the country's top plastic surgery training programs. He and his team have been treating patients since 2001 at Premier Plastic Surgery & Dermatology, which has grown to be one of the largest and most respected plastic surgery practices in Western Pennsylvania.
BOTTOM LINE
After you have exhausted all conventional methods of exercise and nutrition, liposuction is your weapon against those difficult and stubborn pockets of fat that refuse to tighten. Ideal to have done in your 40's, after your body has reached physical maturity and prior to your skin growing too lax, liposuction may be your answer. Contact our experienced and professional staff at Premier Plastic Surgery & Dermatology to discuss your personal situation in relation to the benefits and risks to determine if liposuction is the right option for you. To discuss your individual situation and weigh your options with our board-certified Pittsburgh cosmetic surgeon Dr. Brian V. Heil, contact us at 724-264-3608 or send us an email.