Best Procedures For 40's: Breast Augmentation Combined With Breast Lift
A growing trend in cosmetic surgery is for women to undergo breast augmentation in combination with a breast lift procedure. As women leave their childbearing years and experience progressive hormonal changes, they may become dissatisfied with the resulting changes in their bodies. Breasts often lose firmness and volume, especially in women who have nursed their children or lost significant weight. Women may be troubled by breasts that appear deflated or have excess skin. However, women who have achieved confidence within themselves may refuse to live the second half of their lives frustrated with their appearance. Many pursue corrective cosmetic surgery. Our staff of professionals at Premier Plastic Surgery & Dermatology appreciates the self-confidence of these women and their realistic views of the benefits of cosmetic procedures like breast augmentation and breast lift. We at Premier Plastic Surgery & Dermatology  take pride in restoring a woman's sense of grace and confidence through the enhancement of her figure.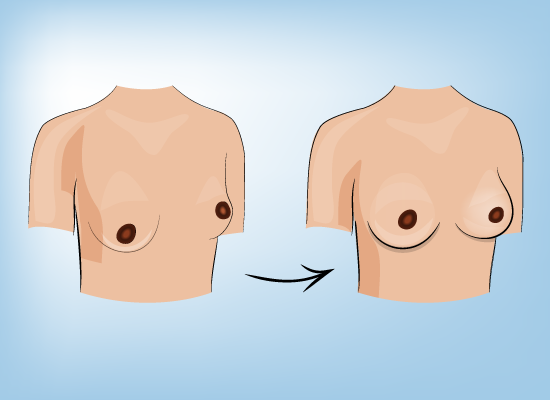 Breast augmentation, or augmentation mammoplasty, is an outpatient cosmetic surgery performed to increase the volume, size, and firmness of breasts through the insertion of implants under the chest muscle or breast tissue. Implants are thin shells filled with the material silicone or saline (sterile salt water). Both types of implants have been approved by the FDA for use in cosmetic procedures. The saline breast implants provide a more uniform shape; whereas, the silicone breast implants have the feel of a more natural breast. The choice of implant is the patient's decision. (American Society of Plastic Surgeons, Mayo Clinic)
Breast lift, or mastopexy, is a cosmetic surgical procedure that reshapes the contours of sagging and softened breasts. In a breast lift, excess skin on the breast is surgically removed and the breast tissues are tightened, raising the breast and restoring a firmer, better proportioned shape. (American Board of Cosmetic Surgery, American Society of Plastic Surgeons, Mayo Clinic)
In situations where loss of volume and firmness, as well as softness and sagging are issues, a combination of breast augmentation and breast lift may be recommended and performed as a single procedure. The practice of performing these surgeries simultaneously has been routine for over 20 years with beautiful results and pleased patients. There are no additional risks in undergoing breast augmentation and breast lift at the same time. However, the results may be positively life-changing. (Aesthetic Plastic Surgery, U.S. National Library of Medicine)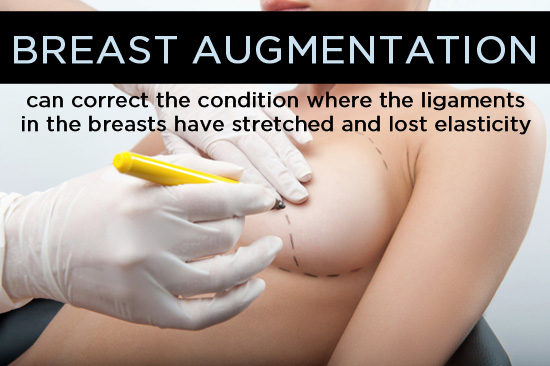 The choice to seek cosmetic surgery and which procedure to undergo is a personal decision influenced by how a woman feels about her body. Patients seek breast augmentation surgery to eliminate the feeling that their breasts are too small or uneven, or they may want to enhance their breasts after pregnancy or a general loss in volume over time (American Society of Plastic Surgeons, Mayo Clinic, U.S. National Library of Medicine). Breast lift surgery can correct the condition where the ligaments in the breasts have stretched and lost elasticity due to pregnancy, weight fluctuation, or just from gravity over time (Mayo Clinic, U.S. National Library of Medicine). Many women who have reached their 40's desire the benefits of both surgeries. Women who receive the increased volume and size from a breast augmentation procedure may still have extra skin that can interfere with the aesthetics of the implants. Therefore, undergoing a breast lift simultaneously will eliminate the excess skin and enhance the final results. The simultaneous operations are a common procedure, but can be challenging due to the multiple goals involved. Not only does the combination of procedures strive to increase the volume of the breasts to enhance the shape, but is also needs to decrease the skin envelope at the same time. Fortunately, our Pittsburgh cosmetic surgeon Dr. Brian V. Heil has both the skills and vision to consistently bring about pleasing results and patients experience an improved body image.(Aesthetic Plastic Surgery, U.S. National Library of Medicine)
Typically, the breast augmentation and breast lift combination procedure is performed as an outpatient surgery. Patients are given a general anesthesia for their comfort. Incisions are made in the creases beneath the breasts, under the arms, or around the areola. The breast tissue is gently separated from the muscles and connective tissues in the chest, creating a pocket to receive the implant. Sutures may be used deep inside the breast to aid in reshaping the breast tissue. Precise incisions are made to remove excess skin and the nipple relocated to a higher position, if necessary. The incisions are closed and the patient moved to a recovery room for careful monitoring while the anesthesia wears off. The breasts are wrapped with gauze and a surgical sports bra is worn to minimize swelling and promote healing. After a recovery period, patients are sent home on the same day as their procedure to begin their healing process at home. Patients may notice soreness and swelling for 1-2 weeks. Around the incisions, there may be some redness for a few months. Any numbness in the breast will typically diminish by six months. The visible, physical changes in the breast contours are immediate and the emotional changes of patients include greater self-confidence and improved body image. (Mayo Clinic – breast augmentation, Mayo Clinic – breast lift)
At Premier Plastic Surgery & Dermatology, our board-certified plastic surgeon and founder Dr. Brian V. Heil has been actively involved in the advancement of cosmetic surgery in the Pittsburgh area for almost two decades. Dr. Heil understands the skill and sensitivity required to excel at his craft and seeks to provide a high level of care to his patients. He is highly trained and experienced, particularly in breast augmentation surgery, having successfully provided thousands of patients with beautiful results. Prior to surgery, Dr. Heil educates our patients to ensure they understand every step of the procedure and requirements for the best possible recovery experience. He is committed to patient education and encourages patient participation in the planning process. Dr. Heil keeps our patients fully informed throughout the procedure, a policy that encourages patient satisfaction.
Dr. Brian V. Heil earned his Doctorate of Medicine from the University of Pittsburgh. He is a member of several professional associations, including American Society of Plastic Surgeons (ASPS), American Society for Aesthetic Plastic Surgery (ASAPS), Medical Spa Society, the International Medical Spa Association, and is a Fellow of the American College of Surgeons. Dr. Brian V. Heil was selected as a Castle Connolly Top Doctor as among the top 10% of doctors in his region in Plastic Surgery. Dr. Brian V. Heil and his team have been providing a prestigious level of skill, comfort and sensitivity to patients with pleasing results since 2001. As a result, Premier Plastic Surgery & Dermatology has become one of the largest and most respected plastic surgery practices in Western Pennsylvania.
BOTTOM LINE
When a woman makes a decision to seek cosmetic surgery to improve her body image, a single procedure may not produce the aesthetic results sought. A combination of procedures may best meet expectations. Breast augmentation readily combines with breast lift surgery to enhance the volume of the breasts and restore a younger appearance: harmonious results that promote self-confidence. Our Pittsburgh surgeon at Premier Plastic Surgery & Dermatology will evaluate your individual situation with sensitivity, help you set realistic expectations and assist you as you evaluate your options. Together, you will decide on the best means to resolve your breast related concerns. To schedule a consultation with our board certified surgeon Dr. Brian V. Heil, please contact us at 724-264-3608 or send us an email. Please visit our website (Premier Plastic Surgery & Dermatology) for a photo gallery showing real results for real women.