Best Procedures For 30's: Breast Augmentation
When women reach their 30's and are finished having children, they may realize that their breasts have always been too small for their satisfaction or that their breasts have lost their fullness and size. Our highly qualified, board-certified cosmetic surgeon Dr. Brian V. Heil can help. Breast augmentation has emerged as one of the more popular cosmetic surgeries. Dr. Heil's experience and thoroughness in discussing the procedures and weighing the options with his patients ensures that he provides fuller, natural looking results to their satisfaction that enhances their existing beauty.
Breast augmentation, or augmentation mammoplasty, is an outpatient surgical procedure used to increase the size and volume of breasts by surgically inserting implants or fat under the breast tissue or chest muscles. Implants are shells that are either filled with saline (sterile salt water) or the material silicone, depending on the patient's decision. Saline breast implants provide a uniform shape and feel and are FDA approved for women over the age of 18. On the other hand, silicone breast implants feel more like natural breasts and are approved by the FDA for women age 22 and older.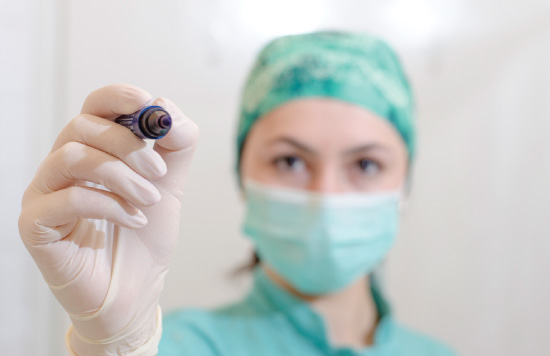 The choice to undergo breast augmentation surgery is a personal decision influenced by how a woman feels about her breasts (Journal of Women's Health). Some patients who seek breast augmentation surgery do so because they are bothered by the feeling that their breasts are too small or uneven. Other patients may want to enhance their breasts after pregnancy, or if they have seen a general loss in volume as they have aged. (American Society of Plastic Surgeons, Mayo Clinic, U.S. National Library of Medicine) This surgery is performed as an outpatient procedure so the patient goes home on the same day to begin the recovery process. The changes are immediate and long lasting. The results of a breast augmentation procedure are beautiful and fuller breasts, which often leads to improved body image, greater self-confidence and decreased self-consciousness. (Mayo Clinic, Plastic and Reconstructive Surgery, U.S. National Library of Medicine)
WHY CHOOSE PREMIER PLASTIC SURGERY & DERMATOLOGY FOR YOUR
BREAST AUGMENTATION
NEEDS?
At Premier Plastic Surgery & Dermatology, our professional staff seeks to provide the highest level of care and comfort to our patients. Board-certified plastic surgeon and founder  Dr. Brian V. Heil is highly trained in breast augmentation surgery, having successfully provided over 1,000 patients with pleasing results. Dr. Heil brings in-depth knowledge and extensive experience to our patients' care. Prior to surgery, Dr. Heil ensures that patients understand every step of the procedure and recovery. He is committed to patient education and keeps our patients fully informed.
Dr. Brian V. Heil is highly qualified and thorough in his craft. Dr. Heil earned his Doctorate of Medicine from the University of Pittsburgh. He is a member of several professional associations, including American Society of Plastic Surgeons (ASPS), American Society for Aesthetic Plastic Surgery (ASAPS), Medical Spa Society, the International Medical Spa Association, and is a Fellow of the American College of Surgeons).  Dr. Brian V. Heil was selected as a Castle Connolly Top Doctor as among the top 10% of doctors in his region in Plastic Surgery. Dr. Brian V. Heil and his team have been providing beautiful results since 2001 at Premier Plastic Surgery & Dermatology, which has grown to be one of the largest and most respected plastic surgery practices in Western Pennsylvania.

Typically, patients are given a general anesthesia so that they will sleep through the procedure. The incisions are made either in the crease under the breast, under the arm, or around the nipple. The breast tissue is gently separated from the muscles and connective tissues in the chest, creating a pocket. Next, the implants are inserted into the pocket. After insertion, the incisions are sutured and bandaged. The patient is moved to a recovery room for a period of careful monitoring. The breasts are wrapped in specialized bandages and a sports bra is worn to minimize any possible swelling and to promote the healing process. After a recovery period, patients are sent home on the same day as their procedure to begin their healing process at home. Soreness and swelling typically diminish after a few weeks, and scars will fade gradually over time. (Mayo Clinic, MedLine)
WHY IS
BREAST AUGMENTATION
IDEAL FOR PEOPLE IN THEIR 30'S?
Breast augmentation has become one of the more popular cosmetic surgeries. It is ideal for women in their 30's as their breasts have fully developed, and they are more likely to have completed childbearing. Since they are fully developed, their breasts will be able to take on their new shape without issues related to additional growth. A mature woman better understands the benefits and risks of the procedure and is able to provide more input in her consultation with our board-certified cosmetic surgeon Dr. Brian V. Heil. Furthermore, women in their 30's are typically in better health and will experience fewer complications than older women.
BOTTOM LINE
Undergoing breast augmentation surgery is a personal choice that can leave you with beautiful results and greater self-confidence. Our Pittsburgh surgeon at Premier Plastic Surgery & Dermatology will evaluate your individual situation with sensitivity and discuss your options, the procedures, recovery period, and all of your concerns. Together, you will plan and prepare for your breast augmentation procedure. To schedule a consultation with our board certified surgeon Dr. Brian V. Heil, please contact us at 724-264-3608 or send us an email.