BEST PROCEDURES FOR 50'S: BREAST LIFT
BEST PROCEDURES FOR 50'S:
BREAST LIFT
Opting for breast lift surgery to enhance their figures is becoming a common choice among women, no matter their years. If their breasts have lost their shape and firmness through weight loss, childbearing, or just due to gravity over time, more women are taking action. They are choosing to restore firmness to their feminine features with a breast lift procedure. Our professional staff at Premier Plastic Surgery & Dermatology is sensitive to the many reasons women are asking for help in making the decision to undergo this surgery. The founder of the practice, plastic surgeon Dr. Brian V. Heil is an expert in his field and skilled in the aesthetics of breast lift surgery.
Breast lift, or mastopexy, is a cosmetic procedure that surgically reshapes sagging and softened breasts. A breast lift does not change the size of the breast, but will give breasts that are drooping or have nipples that now point downward a lift to appear more youthful and firm. Excess skin on the breast is surgically removed, breast tissues are tightened, and nipples are repositioned. The results are raised breasts and firmer, better proportioned shapes. (American Board of Cosmetic Surgery, American Society of Plastic Surgeons, Mayo Clinic)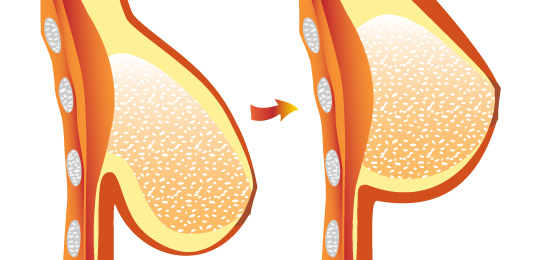 For women who have lost volume along with the firmness of their breasts, a combination of breast augmentation and breast lift may be recommended and undergone as a single procedure. These surgeries have been performed simultaneously for over 20 years with pleasing results. Our Pittsburgh plastic surgeon Dr. Brian V. Heil will educate you on the benefits and risks during consultation should you choose the option of breast augmentation with breast lift. There are no additional risks in undergoing both procedures at the same time. However, the results are positive. (Aesthetic Plastic Surgery, U.S. National Library of Medicine)
WHAT ARE THE BENEFITS OF A
BREAST LIFT
?
Women seek cosmetic surgery for a variety of personal reasons. Which procedure to undergo is a personal decision influenced by how a woman feels about her body. For women who are dissatisfied with the contours of their breast and nipple, a breast lift procedure may be beneficial. Breast lift surgery corrects the appearance of breasts where the ligaments in the breasts have stretched and lost elasticity due to pregnancy, weight fluctuation, or just from gravity over time. A breast lift will give breasts a more youthful appearance by raising the nipple location and removing any excess skin. (Mayo Clinic, U.S. National Library of Medicine)
Some patients may seek breast augmentation surgery to complement a breast lift procedure if they feel that their breasts are too small or uneven, or if they want to enhance their breasts after pregnancy or a general loss in volume over time (American Society of Plastic Surgeons, Mayo Clinic, U.S. National Library of Medicine). The simultaneous procedures are common, but must be well planned to accomplish the multiple goals involved. The combination of procedures produces an increase to the volume (size) of the breasts, decreases the skin envelope and adjusts the position of the nipple at the same time. Fortunately, our Pittsburgh plastic surgeon Dr. Brian V. Heil has both the skills and vision to consistently bring about beautiful results for his patients and they experience an improved body image. (Aesthetic Plastic Surgery, U.S. National Library of Medicine)
Breast lift surgery is performed as an outpatient procedure. Patients are given a general anesthesia for their comfort. Incisions may be made around the areola, vertically downward from the areola to the breast crease, or horizontally along the breast crease. Through the incision, sutures are used deep inside the breast to reshape the breast tissue. Any excess skin is removed, and the nipple is relocated to an appropriate position. If needed, the size of the areola will be reduced. After the necessary adjustments, the remaining skin is stretched, creating an appropriate tautness, and the incisions are closed with skin adhesives, surgical tape, or stitches. The entire surgery may take approximately two to three hours. Patients are moved to a recovery room and monitored while the anesthesia wears off. So long as there are no complications, patients are sent home the same day. Physical results are immediate. Emotional results may include an improved body image and increased self-esteem. (American Society of Plastic Surgeons, Mayo Clinic)
WHY IS A
BREAST LIFT
 IDEAL FOR 50 YEAR OLDS?
Women in their 50's have passed the childbearing and menopausal stages of life. They may be proud of their families and accomplishments, but not be happy with the changes in their bodies over the years. Perhaps they have always desired better contours, or their breasts may have lost firmness from nursing children. Changes in weight may have caused sagging. More and more educated, accomplished and savvy women are choosing a breast lift procedure to firm their breasts and improve their appearance. Our Pittsburgh plastic surgeon Dr. Brian V. Heil at Premier Plastic Surgery & Dermatology understands this feminine perspective and takes pride in assisting the enhancement of their figures through breast lift.
At Premier Plastic Surgery & Dermatology, our board-certified plastic surgeon and founder Dr. Brian V. Heil has been actively involved in the advancement of cosmetic surgery in the Pittsburgh area for almost two decades. Dr. Heil understands the skill and has the insight necessary to excel at his craft. He seeks to provide a high level of care to every patient. Prior to surgery, Dr. Heil educates our patients to ensure they understand every step of the procedure and requirements for a smooth recovery experience.
Dr. Brian V. Heil earned his Doctorate of Medicine from the University of Pittsburgh. He is a member of several professional associations, including American Society of Plastic Surgeons (ASPS), American Society for Aesthetic Plastic Surgery (ASAPS), Medical Spa Society, the International Medical Spa Association, and is a Fellow of the American College of Surgeons. Dr. Brian V. Heil was selected as a Castle Connolly Top Doctor as among the top 10% of doctors in his region in plastic surgery. Dr. Brian V. Heil and his team have been providing a prestigious level of skill, comfort and sensitivity to patients with pleasing results since 2001. As a result, Premier Plastic Surgery & Dermatology has become one of the largest and most respected plastic surgery practices in Western Pennsylvania.
BOTTOM LINE
Through the years, a woman's body may change significantly. Many women are choosing to improve the appearance of their breasts and enjoying an improved self-image. When a woman is discouraged that her breasts add an impression of age that she doesn't feel, breast lift surgery can be a "pick me up" both physically and emotionally. Our Pittsburgh surgeon at Premier Plastic Surgery & Dermatology will discuss your individual situation with respectful sensitivity and help you set realistic expectations as you decide among your options. To schedule a consultation with our board certified surgeon Dr. Brian V. Heil, please contact us at 724-264-3608 or send us an email. Please visit our website (Premier Plastic Surgery & Dermatology) for a photo gallery showing real results for real women.